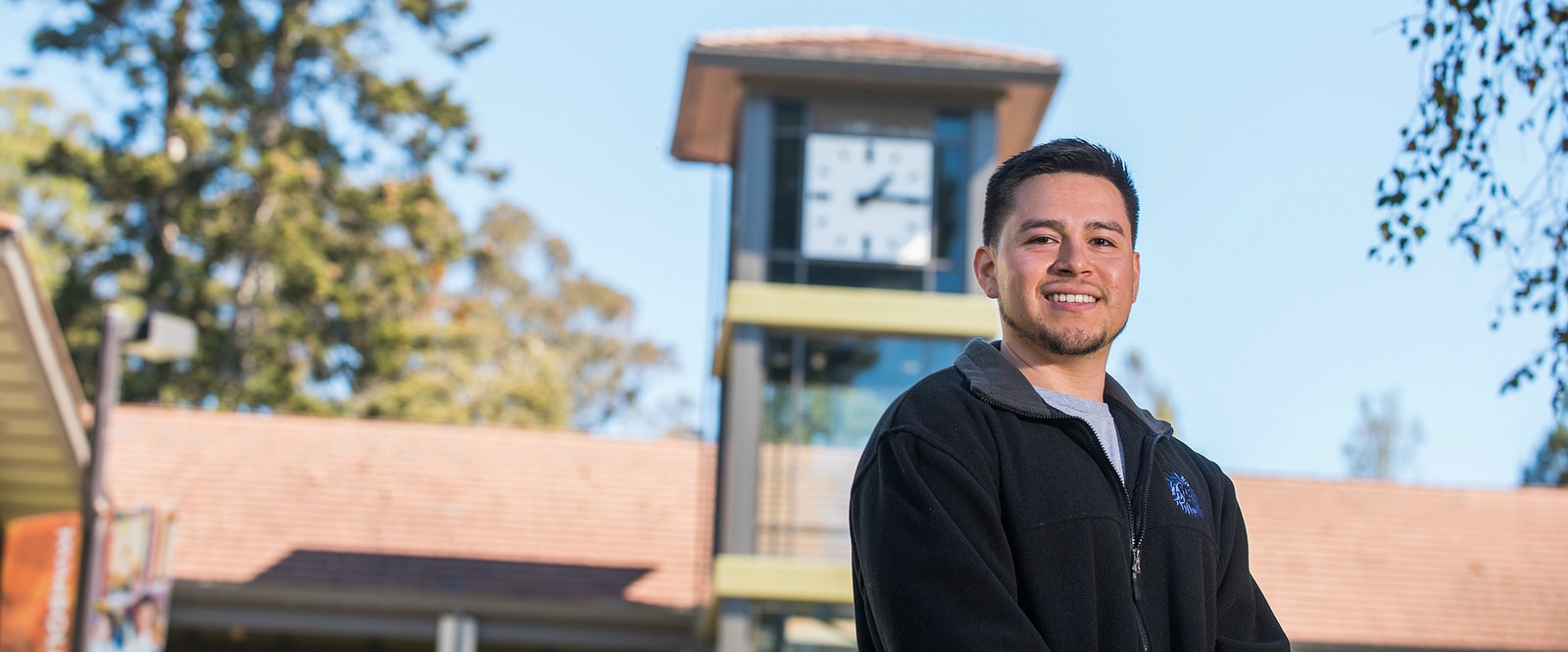 Eric Diaz has a wonderfully calm demeanor and clear way of expressing himself. He is interested in service to the community, music, and rural development, and will graduate next fall with a major in economics and a minor in business.
Eric grew up in Chula Vista, California, where he attended a high school for the creative and performing arts. Active on the baseball and football teams, he also played in a guitar ensemble and performed at events in venues throughout the community. The child of a chef and a home maker, his family also includes a ten-year-old sister.
The Road to Humboldt
A trip in his senior year sparked his interest in Humboldt in a roundabout way.  Eric and his class visited college campuses, focusing on schools in the California State University (CSU) system. But they didn't get as far north as Cal Poly Humboldt. That intrigued Eric, and he set about to learn about Humboldt.
"Once I saw the picture of the redwoods," he said," I knew I wanted to know more, so I asked my parents if we could visit the campus during spring break."
They liked the campus, and his parents thought the small town atmosphere would suit his personality. According to Eric, they were right.
Once enrolled at Humboldt, Eric tried out both a math and a social work emphasis. "They are polar opposites," said Eric.  "I decided on Economics because it touches on both issues, almost meeting in the middle between math and social work.
The first person he met in the Economics department was Dr. Steven Hackett, department chair.
"Dr. Hackett understood how overwhelming it can be when someone begins a four-year college right out of high school," said Eric. "He worked to help me plan a successful four-year schedule, and was there to help me stay focused."
Eric was asked by Dr. Hackett to work on an important project, the Eureka Consumer Price Index survey.
"The Eureka CPI is an ongoing project of the department," explained Eric. "Two fellow students and I worked on it for our senior capstone project. The main objective is to collect the prices for a basket of goods bought by residents, and look at how prices have changed over time. We also explain any trends. We presented our findings at the annual Cal Poly Humboldt "Idea fest" in April."
Reflections
Eric is taking the traditional pathway towards graduation, focusing on microeconomics and development in rural and undeveloped sectors.
A believer in the saying that 'if you do what you'll love, you'll never work a day in your life,' Eric especially enjoys the classes that relate closely to his interests, which include studying about income and workforce inequalities.
 "In the Development Economics class, for example, I learned that developing countries have kicked away the ladder on underdeveloped countries," he said. "The developed countries have all the power, and have made new rules, like the restrictions on pollution, that really inhibit a developing country's growth. It's just a fact that it makes it harder for them to become industrialized nations."
Eric hopes to be able to apply what he's learned to real-world situations where he can help people in need.
"In high school I volunteered through our church, and we went to Tijuana," He said. "There were many people there who had been deported and were trying to get back home, but didn't have the means to do so. I would love to create a program that would help deportees return home."
"I want to give special thanks to the department, and all the professors and lecturers," he said. "They not only do an amazing job teaching the course material, but in going above and beyond to help us. It doesn't matter whether your question is about economics or something else. They'll either spend the time to answer your question or spend the time to help you find out where you can get an answer."
What's next
Eric will take one more semester of classes, and attend graduation in the spring. He's looking at his options for jobs after he graduates.
"My current thinking is an internship with small business development program," he said, "Perhaps helping businesses understand their finances. Eventually, I hope to find a job working for the City of National City, where my parents live right now. I would like to share my Humboldt point of vew and become a leader and voice in sustainable city planning.
In the meantime, there is the summer, and his summer job. For the second year in a row he'll be helping direct people on the gondola rides at the San Diego Zoo. Eric will be back in the fall for his final semester at Humboldt.